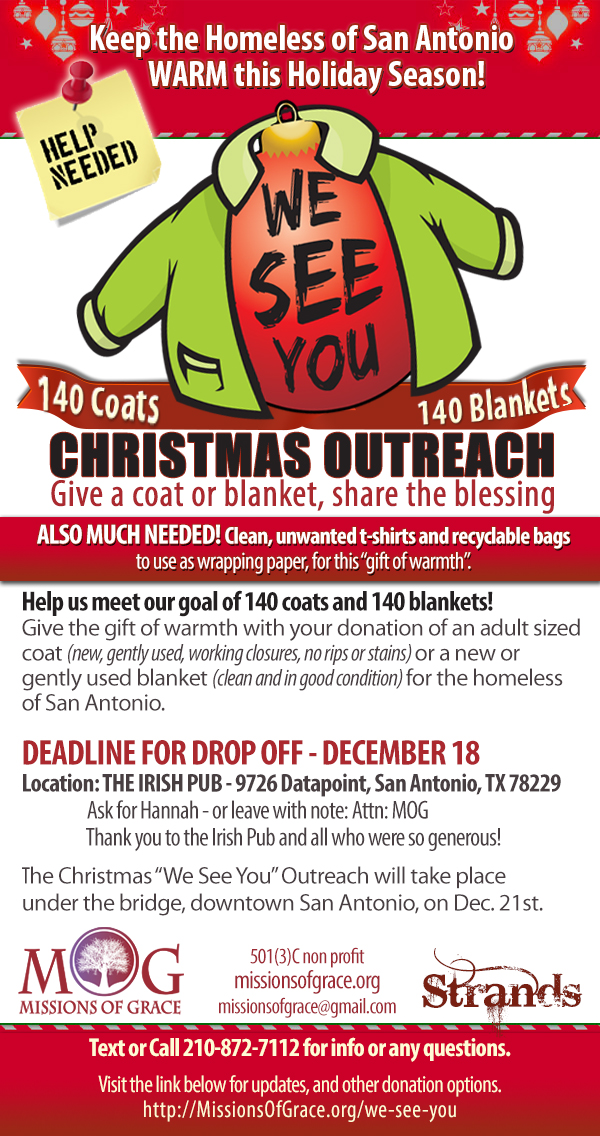 Keep San Antonio WARM this Holiday Season!
Your help is desperately needed — Give a coat or blanket*, and share the blessing. ALSO MUCH NEEDED – Clean, unwanted t-shirts and recyclable bags to use as wrapping paper, for this "gift of warmth". Help us meet our goal of 140 coats and 140 blankets!*
DEADLINE FOR DROP OFF – DECEMBER 18
Location: THE IRISH PUB – 9762 Datapoint, San Antonio, 78229 | Ask for Hannah – or leave with note: Attn: MOG. Text or Call 210-872-7112 for info or any questions.
Email us or for other donation options, visit our donation page or contact us.
The Christmas "We See You" Outreach will take place under the bridge, downtown San Antonio, on Dec. 21st.
*Give the gift of warmth with your donation of an adult sized coat (new, gently used, working closures, no rips or stains) or a new or gently used blanket (clean and in good condition).