Missions of Grace is now building a permanent center in Nicaragua
We are so very excited! Our vision for the Family Wellness Center (Centro de Bienestar Familiar) to create a sustainable Center, with the the Indigenous community takes partnership is coming to fruition, as they have done with our very successful Project Ultra (the free ultrasound exam and follow-up project). We will still be working hand in hand with the Ministry of Health and the local health post, but will be expanding our services. 
---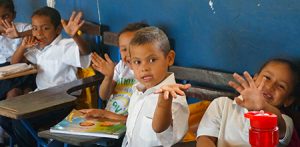 Overflowing with gratitude, encouragement and renewed strength and energy for the future, on Monday, April 11, 2016, we indeed 'placed our flag' on the property of our new health center in Las Salinas, Rivas, Nicaragua. Things are happening! Our target opening is July 2018.
READ THE STORY OF HOW THIS CAME TOGETHER…
---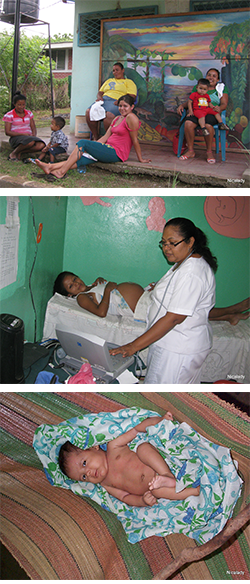 FIRST STAGE: The following are the primary, first stage goals for our new Las Salinas Center which will include Consistent Prenatal Care, Ultrasound Program Expansion and more.  
Prenatal Care Program:  The statistics for maternal tragedies have risen in the last few years.  The Nicaraguan Director of our Center, Martita Romero, has a passion to provide consistent prenatal care.  We have Nurse Midwives who have requested coming for volunteer rotation and teaching.  Someday we hope to provide a Birthing Center, where the mothers who live in the remote communities can come and stay and be safe and have a loving environment for their births.
Ultrasound Program:  We are continuing to work with WINFOCUS and helping them to bring their amazing vision for free ultrasounds for the poor and training the nationals not only to Las Salinas but to the far reaches of Nicaragua. This will go hand in hand with our commitment for solid prenatal care.  We plan to provide a rotating Ultrasound Technician program with trained ultrasound technicians donating their time for a few months at a time.
Preventative Medicine:   Provide education and community counseling as to diet, lifestyle, etc.
Natural Medicine complementing Prescription Medicine:  The Ministry of Health is integrating this and is very eager for us to help them in this regard.  We have a great piece of ground to plant and nurture our healing herbs and the community, under the guidance of APRODIN will be drying and preparing them for use. 
2nd STAGE WILL PROVIDE:
Physical Therapy Program:   This is very needed in the area.  The nearest Physical Therapy Clinic is in Rivas, which is at least 1-½ hours away or more, depending on where the patient lives.  We have PT specialists who are ready to give of their time and talents and help us locate the needed equipment.
Base Camp for Backpacking and Remote Outreach:  The communities up in the remote hills are in need of so much, such as Water Filtration Projects and simple medical care. 
---
We invite you to join us in any way that will work for you. We need others to join us and make this happen.
PLEASE NOTE: We have found over the years that when we lead teams from the states to help us here, the team members benefit at least as much from the interaction as do the Nicaraguans we serve. This has been a significant outcome and we have many testimonials! 
---
TO SUPPORT US WITH A DONATION – Visit our donate page HERE. Thank you ahead of time!