Nicaragua Emergency Flood Relief, Phase Two
ADOPT-A-FAMILY
MATCHING FUNDS FOR MATERIALS! *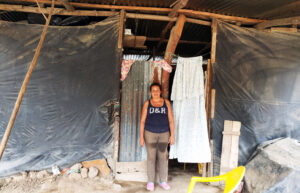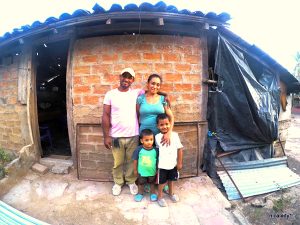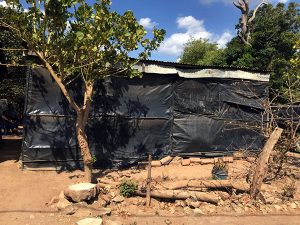 Ten months ago, Tropical Storm Nate hit our communities in Tola, Nicaragua very hard. Many families who live by the river lost their homes, some lost complete walls as the river rushed through.
We have been rebuilding walls of homes since a few months after the storm. We have chosen the families who are most in need – ones with small children, the elderly or handicapped.
They wrapped their homes with heavy black plastic where the walls existed seven months ago after the storm. The families whose income is less than $100 a month have not been able to rebuild.
Please consider joining us in this effort.
We are earnestly in need of your support to help them!! We use local labor, we are building with local brick, and the families help us build and contribute what materials they have. The rainy season is upon us – the need is now urgent.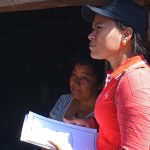 After visits and assessments, we have 12 more families on our current list to help rebuild. (We have already rebuilt nine to-date). We'd love to have people Adopt-a-Family or simply donate toward a house. All the houses approximately $1000 each to complete. This is a crucial matter!
Felipe, who was trying to put together a temporary home out of tin debris from the storm, fell and unfortunately, he injured himself so badly that he has since passed away. Such a sad day!
---
Please contact us if you are interested in Adopting a Family —
If you like, we will share specific family case studies with you prior to posting them on the site.
Or, simply give what you can here at our DONATE page.
---
*MATCHING FUNDS CAMPAIGN FOR BUILDING MATERIALS! This is amazing — a donor has pledged to match every penny that is given for materials to rebuild these homes. This will be a limited time offer, so help us take advantage of this generosity!
THANK YOU AHEAD OF TIME!
Read the story of Tropical Storm Nate HERE at the DISASTER RELIEF page
---
We are a grass-roots organization built on local relationships, fostering sustainability, community and empowerment – located in Nicaragua and Texas.
---
NICARAGUA CURRENT PROJECTS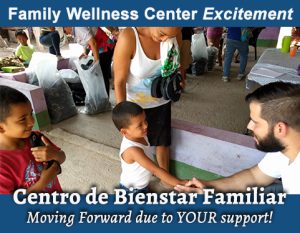 Updates! THE FAMILY WELLNESS CENTER (Centro de Bienestar Familiar) – A long-awaited dream is coming true. This building is being donated by the Indigenous Committee of Las Salinas Nahualapa. Read our latest update HERE: The fence is up! This will also be the home of our Project Ultrasound, PRENATAL CARE Project, our Project Herbal Medicine and Youth Outreach. LEARN MORE HERE… 
NICARAGUA VOLUNTOURISM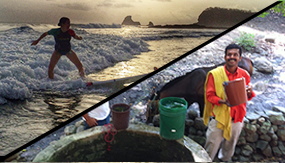 WORK HARD – BE SATISFIED – PLAY HARD! 
We are very proud to offer you CUSTOM Trips! Whatever your skill, or if you just are willing to get your hands dirty, we can put together a unparalleled trip – not only connecting you to the Nica people, but also taking you on your chosen adventure.
PLUS! – We went down the remote Rio San Juan River in April, 2017!   READ ABOUT IT HERE! 

HOMELESS OUTREACH – Passing the baton…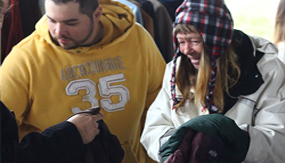 UNDER THE BRIDGE, San Antonio, TX – We at MOG have been undergoing changes and new growth. We lost our leader for UTB San Antonio, as Hannah Mauldin has moved to Denver, Co and Cheri Mauldin has moved her home base to Nicaragua to concentrate on the immense projects there. We will always support and believe in the Under the Bridge Feeding the Homeless Program and truly loved doing it for the years we were able. We rejoiced to see the growth and depth happening to our volunteers. Please do not hesitate to get involved if you are in San Antonio. Here is the Facebook page: CHECK IT OUT HERE.  

---
Be part of the solution  – Donate – Participate – Join the Conversation!